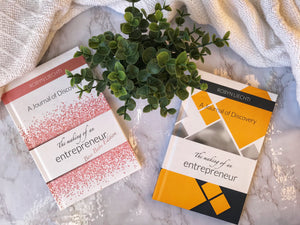 The couple that builds businesses together, stays together! Okay, we just made that up. However, celebrating your entrepreneurial journeys, whether they're intertwined or not, will positively impact both of your lives. Share your personal and business stories in our prompted journals for entrepreneurs and celebrate your success, challenges and everything in between.
Celebrating your business encourages empowerment, resilience and will fuel your passion. Every business has a story, document and preserve yours with our mindfully created His & Hers Bundle!

And, if you aren't an entrepreneur yourself, this bundle makes a great gift!

THE BEST GIFT FOR ENTREPRENEURS
Features:
The Making of an Entrepreneur journal

The Making of an Entrepreneur {Boss Babe Edition} journal

Gift Wrapping

Personalized Note*
*Please add personalized notes to your order notes at check out